HiTech Automobiles Sales, Stock and Accounts Manager Software
---
Supplier Aged Balances
Supplier Aged Balances, Outstanding Supplier Balances, Supplier Module
trsagbl.bmp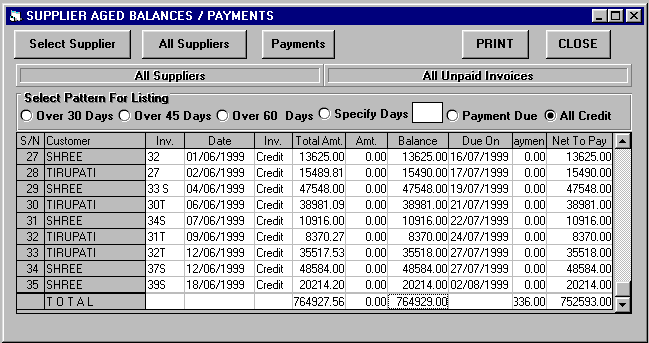 Supplier Aged Balances; Outstanding Supplier Balances;Supplier Module - Accounting software and Business Management software for Traders, Industry, Hotels, Hospitals, Supermarkets, petrol pumps, Newspapers Magazine Publishers, Automobile Dealers, Commodity Brokers etc. - Financial Accounting Software Reseller Sign up, Resellers are invited to visit for trial download of Financial Accounting software for Traders, Industry, Hotels, Hospitals, petrol pumps, Newspapers, Automobile Dealers, Web based Accounting, Business Management Software. Business Management and Online Financial Accounting Software, We develop web based applications and Financial Accounting and Business Management software for Trading, Industry, Hotels, Hospitals, Supermarkets, petrol pumps, Newspapers, Automobile Dealers etc.
Supplier Aged Balance is the total amount of credit invoices which are past of the due date and are still unpaid as on the current computer date. It displays code, name of the suppliers, details of invoices, recovery amount for that invoice, if any, and net to pay for each invoice.
The various options for ageing analysis can be done for 30 to 60 days. Selecting the option
Over 30 Days
will display only those invoices in which the due date is more than 30 days old. If you click on option button
Over 45 Days.
The invoices which have due date more than 45 days will be displayed. To see the invoices for more than 60 due days click on option button
Over 60 Days.
You can also specify days for getting this report. You can enter the days in the text box given with the option
Specify days.
The aged balance for these days will be displayed in list. To see record of those customers whose payment is due click option button
Payment Due.
and to see the balance of all credit records click on option button
All credit.
The aged balances for only a particular supplier can also be found. Total outstanding amount and the other totals are calculated at the end of the report. If recoveries are made for any invoice then the recovery amount can also be entered here.
To select only one particular supplier press
Select Supplier
command button. List of suppliers will be displayed. Bring focus to the desired supplier name or click the name and then press
OK
on the supplier list. The credit / outstanding invoices of the selected supplier will be displayed. To list all suppliers' Current Balances press command button
All Suppliers
If Payment Receipt Voucher of the payment received against credit invoices is not made then recovery of invoice can also be shown using
Payment
command button. To do this press command button
Payment.
A small frame with title as the invoice number selected will be shown. Enter the recovery amount in the text box. Press
OK
to add this recovery amount to any previous recovery amount for this invoice. To set the recovery amount to zero press
Zero
command button. When full amount is recovered then the invoice will no longer show in this list.
Caution :
Showing recovery in this manner will mark the invoice as paid but the ledger of the supplier will not be updated. To update ledger and show recovery use
Receive payment from Supplier.
command from the command in the
Voucher Entry
menu item.
To close the report press command button
Close.
To see help on printing please refer to :
Print Using HiTech Print Engine
.